Recent Museum Events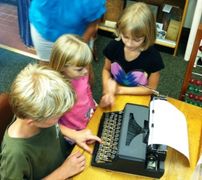 2017 Spring and Summer Museum focus has been on the younger generation.
Hundreds of Pickerington School third graders saw a local history slide show and toured our Museum. Throughout the summer, we've been making sure exhibits are hands-on and child-friendly. This includes giving children the experience of typing on a manual typewriter, identifying animal pelts, trying on vintage hats, using a dial telephone, building with
Lincoln Logs, and much more.